CyberLab Control | All-in-one Cyber Security as a Service Platform
A single dashboard for all your cyber security needs.
Protect your business from cyber threats with CyberLab Control – Cyber Security as a Service that delivers a suite of tools with expert guidance and support, all wrapped up in a user-friendly portal.
With our easy 3-step onboarding process and intuitive cloud portal, you are able to better understand, execute, and mitigate cyber threats to your business.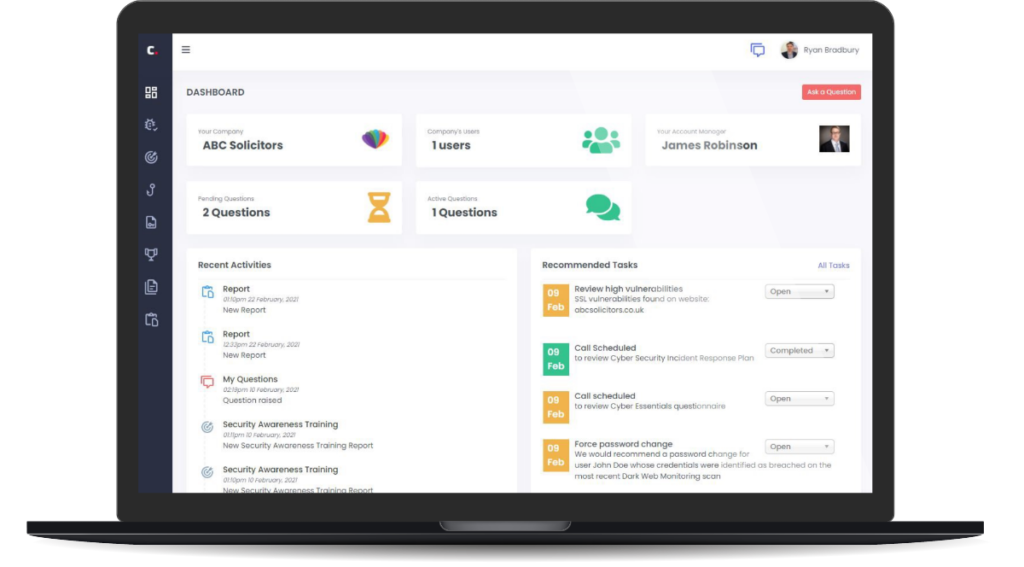 Level-up Your Cyber Security With...
Vulnerability Scanning
We keep a constant eye on your security, so you don't have to. CyberLab's vulnerability scanner regularly scans your systems for emerging vulnerabilities and identifies weaknesses in your digital infrastructure to avoid costly data breaches.
Security Awareness Training
Empower your workforce with interactive training courses. Make sure your staff are following the procedures and processes with interactive training courses for your entire team. Engaging bitesize modules identify and rectify your people's security blind spots.
Dark Web Monitoring
Our advanced scanning software crawls the most remote and inaccessible recesses of the Dark Web for your credentials. If they have been compromised or put on sale, we will track them down, alert you instantly, and advise you of the best action to take.
Phishing Simulation Campaigns
Your users can either be your first line of defence or your weakest link. Empower your people to detect and avoid phishing attacks within a safe environment. Enhance your team's security awareness with effective simulations leveraging real-world threats that your users encounter.
Real Time Metrics
Instant access to all your key security metrics, displayed clearly on your dashboard.
Save Time & Effort
Say goodbye to the burden of managing user lists with auto-enrolment.
Automated Reports
Impress key stakeholders with executive summaries, exportable in PDF format.
Seamless Integrations
Share pertinent cyber security data from the CyberLab portal via Slack and Teams with colleagues and partners.
Secure Data
Rest assured in the knowledge that your data is stored safely with CyberLab.
Always Available
Accessible anywhere and at any time to suit your busy schedule.
CyberLab Control | Cyber Security as a Service
Experience the beneifts of an all-in-one cyber security portal with a free 14 day trial.
No obligation, no credit card required.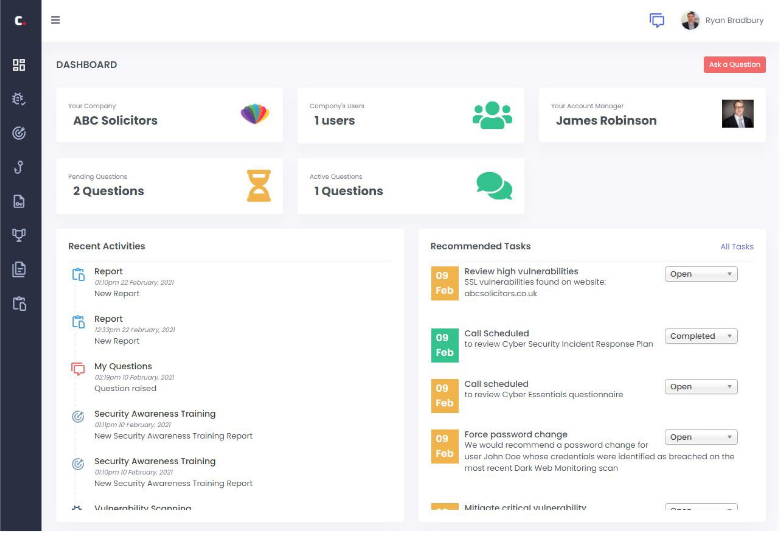 Enter your details and one of our specialists will be in touch.
Whether you're looking to implement basic cyber security best practice, improve your existing defences, or introduce a new system or solution, our team of expert consultants, engineers, and ethical hackers are here to help.
Our team specialise in creating bespoke security solutions and testing packages to improve and maintain your security posture.
We are 100% vendor agnostic and will only ever recommend the best products and solutions for your requirements.
If you like this, then take a look at…
We are delighted to announce our new CSaaS offering
Why your business should monitor the Dark Web
What is a social engineering attack?