Hybrid Work | Cyber Security Solutions
With more of us working from home than ever before, it's never been more important to ensure that your people are protected against online threats, whether they're at home, in the office, or on the go. 
Our hybrid work security solutions are designed with flexibility in mind, to help mitigate these emerging threats, and future-proof your business against whatever might be round the corner.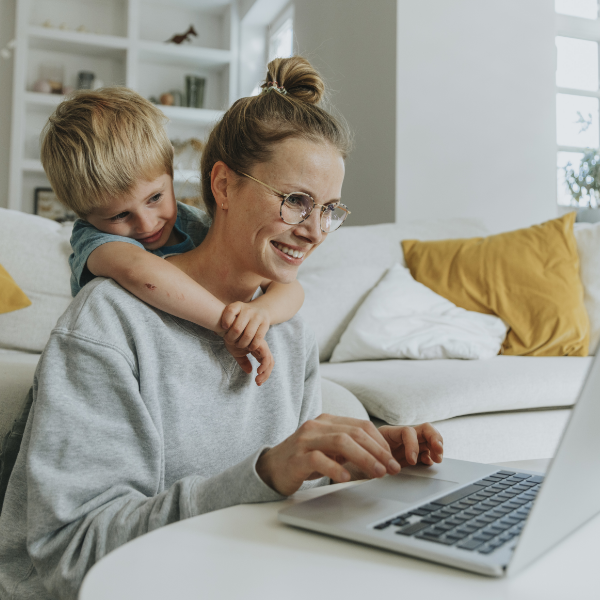 New Work Habits, New Threats
With over 70% of professionals working at home at least once a week¹, hackers and other bad actors are quickly adapting to the working environment and finding new ways to target your weak points.
Device Security
Whether your team are using their own devices or equipment you have supplied, the risk of endpoint compromise increases dramatically in a hybrid environment.
Data Leakage & Loss
Transferring data across unsecured networks and devices without the proper level of encryption can lead to unintentional data leakage and losses.
Unsecured Networks
The home and public networks your people connect through won't be as secure your internal network, and you don't have the same level of control.
Data Control
Gain control over what is classified as sensitiva data, what limitations are placed on it, where it's stored, who gets access, and what happens if it is lost or stolen.
Phishing & Social Engineering
It has been shown that remote workers, often relying solely on email for communication, are more susceptible to phishing and social engineering techniques.
Work Securely from Anywhere with CyberLab
How do you keep your data secure when your employees could be anywhere?
Cybercriminals are adapting to hybrid work as quickly as businesses, and have learned how to exploit the new model for their own benefit.
Detect.
The first step to securing your hybrid environment is to gain a complete understanding of your current defences and how well your they are performing.

Our free online Posture Assessment tool is a simple way to to review the most relevant aspects of your security posture within just half an hour.

The testing we undertake at this stage will depend largely on your environments and the tools you have in use.

If you have specific concerns around systems, programs, cloud hosts, or vendor programs, this is the time to raise them with your CyberLab consultant.
Protect.
Your remote workers require safe, reliable access to your systems anywhere in the world, secure devices to work on, as well as safe and intuitive communication channels.

Strengthen your first line of defence with ongoing constant cyber security awareness training, ensuring your people are alert to emerging threats and how to mitigate hybrid working risks.

Your systems themselves also need to be fully secured against the cyber threats that a modern business faces.

Our team of experts can help to assess exactly which products, tools, and technologies should be included in your hybrid security solution.
Support.
We will equip your team with the knowledge and guidance necessary to utilise your new systems or programs effectively. Once your solution is in place, you can request support direct from the vendor, according to your service level agreement (SLA).

Additionally, you can take advantage of our years of experience supporting and maintaining the solutions with our range of Security Support services.

We'll look after the maintenance and configuration elements to ensure they are always in-line with industry best-practice, giving you both peace of mind and the time to focus on your other priorities.
Book Your Free 30-Minute Consultation
Our expert consultants are here to take the stress away from cyber security.
Whether you have a pressing question or big plans that need another pair of eyes, discuss it in a free 30-minute session an expert consultant.
We work alongside the most reputable vendors in cyber security to ensure your people can work safely from anywhere.
Enter your details and one of our specialists will be in touch.
Whether you're looking to implement basic cyber security best practice, improve your existing defences, or introduce a new system or solution, our team of expert consultants, engineers, and ethical hackers are here to help.
Our team specialise in creating bespoke security solutions and testing packages to improve and maintain your security posture.
We are 100% vendor agnostic and will only ever recommend the best products and solutions for your requirements.
If you like this, then take a look at…
A Hackers Guide to Remote Working
Home Working: Cyber Security Perspective
What is a Phishing Attack: Examples & Action Plans
Security Resilience with Cisco