Infrastructure Security | Cyber Security Solutions
Infrastructure Security Solutions
Help to protect your critical infrastructure by processing and analysing large volumes of data, providing full visibility, and improving security posture and resilience.
By investing in patch management, network monitoring, event management, and ongoing security assessments, you'll keep data flowing and ensure that only authorised users can gain access to sensitive data and equipment.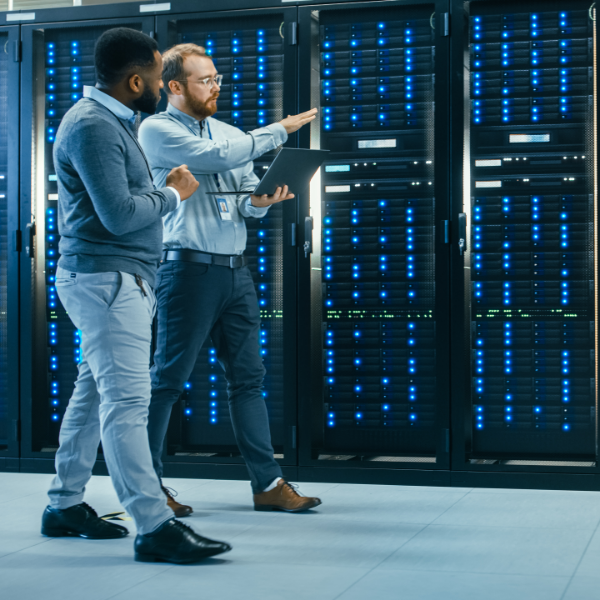 It is important to protect end-user devices, but protecting your core infrastructure is critical.
Every user depends on it for their continued operation, and it is likely where your most critical data is stored and accessed. 
With bad actors actively targeting organisations like yours, it's essential to secure your infrastructure before it's too late.
Business Continuity
An attack on your business infrastructure could result in your systems being offline for hours, days, or longer.
Unpatched Software
Out of date or unpatched software can easily be identified and exploited by hackers.
Data Leakage & Loss
A successful infrastructure exploit could result in your sensitive data getting into the wrong hands.
IoT Compromise
Unsecured Internet of Things devices are vulnerable to remote access and control by attackers.
Protect Your Infrastructure With CyberLab
We provide advice on a wide range of solutions on how you can roll out a comprehensive infrastructure protection program across your business allowing you to monitor and manage your most critical infrastructure, or even do it on your behalf.
Detect.
Our online Posture Assessment tool is a simple way to gain a better idea of your cyber security posture. Only taking around half an hour to complete, it is completely free, and will review the most relevant aspects of your security posture.

A Network Security Review is much more detailed than a Vulnerability Assessment and can identify misconfigured devices that leave your network at risk.

Infrastructure Testing is a specific type of Penetration Testing carried out by our CREST and CHECK approved experts to identify vulnerabilities in computer systems, network devices, or ranges of IP addresses.
Protect.
Our team of experts will engineer your solution around the security weak points identified in your Infrastructure Tests.

CyberLab recommends a Defence in Depth approach to secure all layers of your infrastructure: data, application, network and physical.

By utilising our vendor partners and other enterprise-grade tools and applications, we will ensure your team have complete visibility of all devices and security information and event management, as well as putting systems in place for patch management, network monitoring, and data loss prevention.

We will also review your backup policies, and ensure that there's always an up-to-date copy of your data to restore from to ensure business continuity.
Support.
We will equip your team with the knowledge and guidance necessary to utilise your new systems or programs effectively. Once your solution is in place, you can request support direct from the vendor, according to your service level agreement (SLA).

Additionally, you can take advantage of our years of experience supporting and maintaining the solutions with our range of Security Support services.

We'll look after the maintenance and configuration elements to ensure they are always in-line with industry best-practice, giving you both peace of mind and the time to focus on your other priorities.
Book Your Free 30-Minute Consultation
Our expert consultants are here to take the stress away from cyber security.
Whether you have a pressing question or big plans that need another pair of eyes, discuss it in a free 30-minute session with an expert consultant.
Enter your details and one of our specialists will be in touch.
Whether you're looking to implement basic cyber security best practice, improve your existing defences, or introduce a new system or solution, our team of expert consultants, engineers, and ethical hackers are here to help.
Our team specialise in creating bespoke security solutions and testing packages to improve and maintain your security posture.
We are 100% vendor agnostic and will only ever recommend the best products and solutions for your requirements.
If you like this, then take a look at…
Security Resilience
with Cisco
Secure Architecture & Configuration
Five Significant Savings with Synchronised Security