Chess Cybersecurity Becomes CyberLab
Detect. Protect. Support.
Chess Cybersecurity
Becomes CyberLab
Chess Cyber Security announces a new rebrand strategy and the merger of Chess Cyber Security, Armadillo Sec and CyberLab.
After six years of Chess Cyber Security protecting blue-chip enterprises, government departments, and SMEs across the UK, we have brought all our cyber security services under one roof – CyberLab. 
Since the acquisition of Foursys in 2017, Chess has been on a journey to becoming a cyber security powerhouse. In 2021, 15 of the UK's top Penetration Test experts joined the company through the acquisition of Armadillo Sec. In 2023, Chess acquired CyberLab, a specialist cyber security consultancy that provides a range of compliance and managed security services.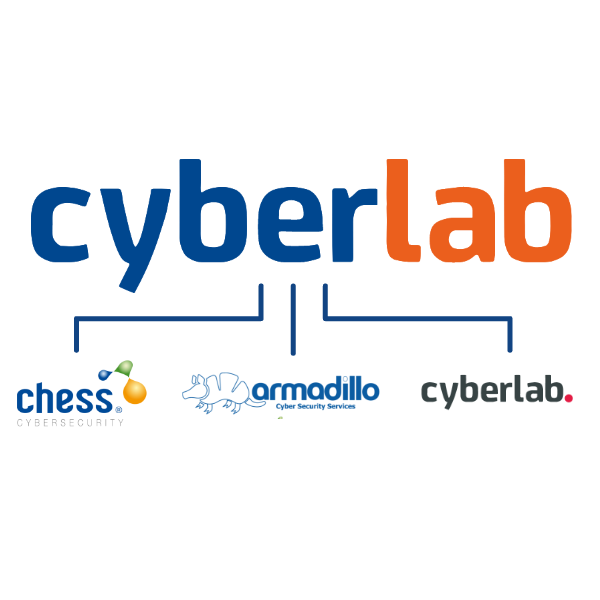 "We're rebranding and merging all our expertise under the CyberLab brand to better reflect our focus and commitment to cyber security and protecting our customers. We're a one-stop cyber security advisor - from testing, assessment, and discovery to consultancy, delivery, and hardening. The team is equipped with the right technology, knowledge, and expertise to help businesses of all sizes, including large public sector organisations."
All the Armadillo Sec services you have come to rely on are now available through CyberLab, and the same team of expert penetration testers are here to help secure your cyber defences.
…And we're introducing a suite of exciting new products and services including
Our flagship Cyber Security-as-a-Service platform delivering industry leading vulnerability scanning, security awareness training, phishing simulation campaigns, and dark web monitoring as a fully managed service with an all-in-one reporting dashboard.
A government-backed certification to help businesses like yours to defend against the most common cyber threats. CyberLab is an IASME assessor for the Cyber Essentials and Cyber Essentials Plus accreditations, and can provide support to your requirements.
Managed Detection and Response offers advanced threat hunting, detection, and response capabilities as a fully managed service. Don't worry about detecting, classifying, and responding to threats with a team of 24/7 threat hunters doing it for you.
Enter your details and one of our specialists will be in touch.
Whether you're looking to implement basic cyber security best practice, improve your existing defences, or introduce a new system or solution, our team of expert consultants, engineers, and ethical hackers are here to help.
Our team specialise in creating bespoke security solutions and testing packages to improve and maintain your security posture.
We are 100% vendor agnostic and will only ever recommend the best products and solutions for your requirements.